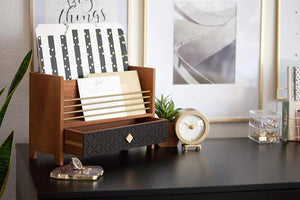 Size:2 Tier With Drawer  |  Color:Wood Wood Letter Sorter Mail Organizer Want an organized office? This mail sorter wooden desk organizer is just what you need to keep items in order. Sort all your papers, mail, files and office supplies in one place while keeping your desk clear and organized.\ Product Details: No Assembly Required 2 Tier Mail Holder 1 Drawer 4 Metal Rods Wooden Construction Timeless Design Color: Natural Brown Makes a great gift for Christmas, Back to School, Co-Workers, College, Students, Kids, Children, Childs, Teens, Boys, Girls, Teachers, Secretary, Reception Area, Receptionist, Birthdays, and more! Wooden Letter Sorter Mail Organizer for Home or Office.


TIMELESS DESIGN: Made of beautiful natural wood with gold metal rods, this beautiful mail holder and bill organizer is stylish and will look great for years to come. Finally, desk accessories for women office are here.
VERSATILE MAIL ORGANIZER: Need cubicle décor? Desk decorations for women office are fun again. With a greeting card organizer, cubical accessories, desk accessories, and command center, this set has it all.
UNIQUE LOOK: Desk organizer and accessories for women can be exciting and beautiful, too. This classroom mailbox countertop organizer and mail basket brings the style and uniqueness with gorgeous diamond patterns, natural wood, and brass accents for a modern mailbox acting as cubicle decorations.
HIGH QUALITY: Constructed of wood and with lovely accents, this cubicle organizer and office mailbox is big on style and high on quality. Mail organizer desktop desk accessories allow for a corner desk organizer or even a desktop organizer with drawers. It's the perfect mail tray and desk folder organizer.
SPACE SAVING: When you need versatility, this wooden desktop organizer delivers as an envelope holder. It will make it easy to store all your important items in one location in a desk caddy organizer so you can focus on your work and productivity.